ABOUT AO NANG LANDMARK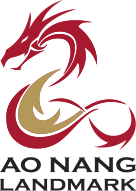 AO NANG LANDMARK
"CITY OF WEALTH"
The first and only modern beach-front community in Krabi, Thailand, inventing over 88,000 square meters with nearly 400 meters stretching along the beach to a hub of lifestyle activities for tourist in one area.
Conveniently commute with peer service and more than 600 parking lots available. These include, but are not limited to, beachfront shopping complex, restaurants, shops, supermarkets, entertainment, sport club, indoor stadium, hotels, and other amenities.
Ao Nang Landmark is becoming a newly complete city, soon to be world-class travel destination in the near future.
- City of Sustainable tourism
- City of Thailand's southern arts and culture
- City of Andaman's core economy
- City of leisure and entertainment
- City of smart technology and modernism